Compass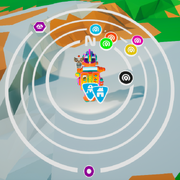 The Compass is used to help the player navigate the planet. Players can activate the compass by pressing the control to open the Action Wheel (R on PC) and selecting the Compass icon. This can be used at any time, when the player is in or outside of a vehicle. The compass will always point to the North pole of the planet.
The compass will show the player multiple different navpoints, however not all of a certain type will be displayed, and will only show the player the nearest one.
Beacons: Up to 9 may be displayed, but only if no other navpoints exist and no chambers have been activated. Other navpoints take priority over beacons
Shelter: Only the nearest Shelter or Field Shelter will be displayed
Shuttle: Only the nearest Shuttle will be displayed
Rover: Only the nearest Rover will be displayed
Inactive and Active Gateway Chambers: Only the nearest Inactive and Active Gateway Chambers will be displayed. Inactive Gateway Chambers will appear as purple circles with a central white circle and Active Gateway Chambers will appear as purple Gateway Chamber symbols.
Probe: When scanning with a Probe Scanner, it will display a navpoint for the planet's probe
The Size and Camera Tilt of the compass may be changed in the General section of the Options menu.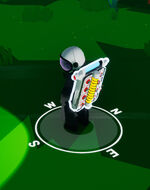 Before Patch 1.19.134, the compass only displayed when hovering the cursor over the player's astroneer, and only showed the four cardinal directions.
The compass was not able to be shown inside of a vehicle until Patch 1.19.134, released on March 31st 2021.