Terrain
Terrain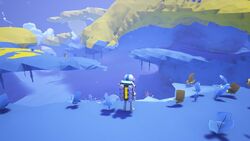 In this image, the player is standing on terrain on the planet Exotic
Terrain is the fundamental building block of all planets in Astroneer. It can be dug up, placed back or manipulated by the player in various ways. The player needs to store it as

Soil inside of Canisters to be able to do more than just digging the terrain.
Terrain has various properties, the primary one being the surface that all items in the game sit upon. Most items in the game rest loosely on top of the terrain, however Platforms have the ability to anchor themselves in place when the use key is pressed, "F" for pc, "Y" for Xbox or "triangle" for PS4. The starting Shelter and Landing Pad also will remain in place, even if the terrain is dug up around them. Terrain also has four varying degrees of hardness, with harder terrain being found deeper underground or on harder difficulty planets. Players may also color terrain using Terrain Analyzers, using colors found on the planets.
Terrain has four hardness levels, visibly different based on the texture and also indicated when the Terrain Tool hovers over the terrain.
Hardness 0:
Hardness 1:
Hardness 2:
Hardness 3:
Terrain is intended to have many uses in Astroneer, both functional and aesthetic: